3D & Installation Work (Personal work; commissions & participatory pieces):
Making forms a large part of my artistic practice because I love working directly with materials to create something interesting. In recent years, I have also worked on parade projects, which has given the opportunity to work large-scale and to make a visual statement in a new context. I love transforming spaces and I am always excited by the possibilities of what installations can do. Often, I combine my ideas and methods with the arts engagement work I do too so that collborative outcomes are made from participatory pieces. See also "Sculpture" page on my website.
Below shows just some samples of my 3D and installation work from over the years:
*************************************************
Hand-Made Giant Chinese Dragon Commission for Chinese New Year Festival in Carlisle! (12th, 13th and 14th Feb 2018)
I was Artist-in-Residence at Tullie House Museum and Art Gallery, Carlisle, for this project. For only three days (10am-5:30pm hours), I was given the opportunity to design and create parade art for Carlisle's first ever Chinese New Year festival! The brief was only for it to be GIANT so I decided to create a 26ft (8 metre) long Chinese Dragon for the parade on 16th February 2018! My idea was to create a fabulous, friendly and lucky dragon, which would spread positivity to the local community! Thus, I intended it to reference Chinese symbolism within its design. For example: it was 8m long and 8 is the Chinese lucky number. Likewise, the dragon would be predominantly red, which it symbolic of good luck and fortune in China. Elements in yellow and gold in the design would be symbolic of wealth and happiness.
Although the concepts and building were by myself, local families also got the opportunity to take in part of the production because I wanted them to have some ownership over the dragon too. So during those three days, I also ran a family-friendly drop-in workshop (whilst working on the building of the piece) where I invited participants to draw out a "Fu" symbol (which means good luck in Chinese) onto red paper, reminiscent of the Lucky Red Packets given out over the Chinese New Year period. These would then form the scales of the dragon and were later attached onto the body of it. Approximately 540 scales were collected by the end of the project! The giant Chinese dragon then took part in the parade procession. It was an intense working period but a fantastic challenge - I certainly had a great time working on the project! The feedback was so positive about the piece!
*************************************************
25 YEARS: ...To Infinity and Beyond! (July 2016)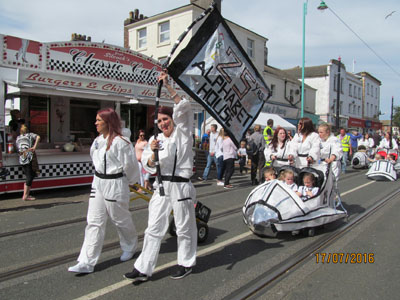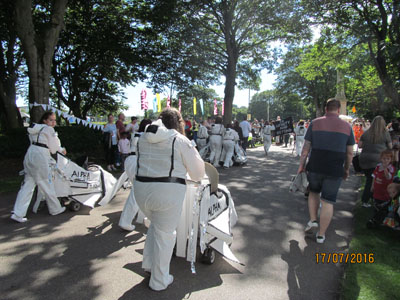 I was Artist-in-Residence in Fleetwood, near Blackpool, for this community arts engagement project.For one week, I worked with staff from the award-winning Alphabet House Day Nursery in Fleetwood to create parade art for this year's Spare Parts Arts Festival as part of the annual Tram Sunday celebrations! The brief was open to interpretation but had to link into the idea of journeys in some way and would involve using decorated prams/buggies in the parade line-up. My idea was, "25 YEARS: ...To Infinity and Beyond!" to celebrate their 25th anniversary as the top pre-school provider in the local community - the idea of the nursery launching these young children into the rest of their life - fulfilling ambitions and their individual potential, so that they can make a positive step for man-kind! Prams and buggies were transformed into super cool space rockets for the children to ride in... there was a "still" flag so that the nursery can spread the message of their presence in the community... astronaught-inspired costumes were also made. The aesthetics were kept purposely hand-made looking and monochrome to link to the idea of being a child and colouring books with dashings of primary colours on the faces and flag. Although the concepts and visuals were mine, the staff members all took part in every part of the production because I wanted them to have some ownership over the project too. They then performed in the parade with the finished pieces in a "V" type formation with spacey music playing. I had a great time working on the project and I also delivered some Creative Professional Development Workshops in Parade for local art teachers, youth leaders and parents in the local community too prior to this.
*************************************************
[Below:] The Wonder Wall (2015) mixed media installation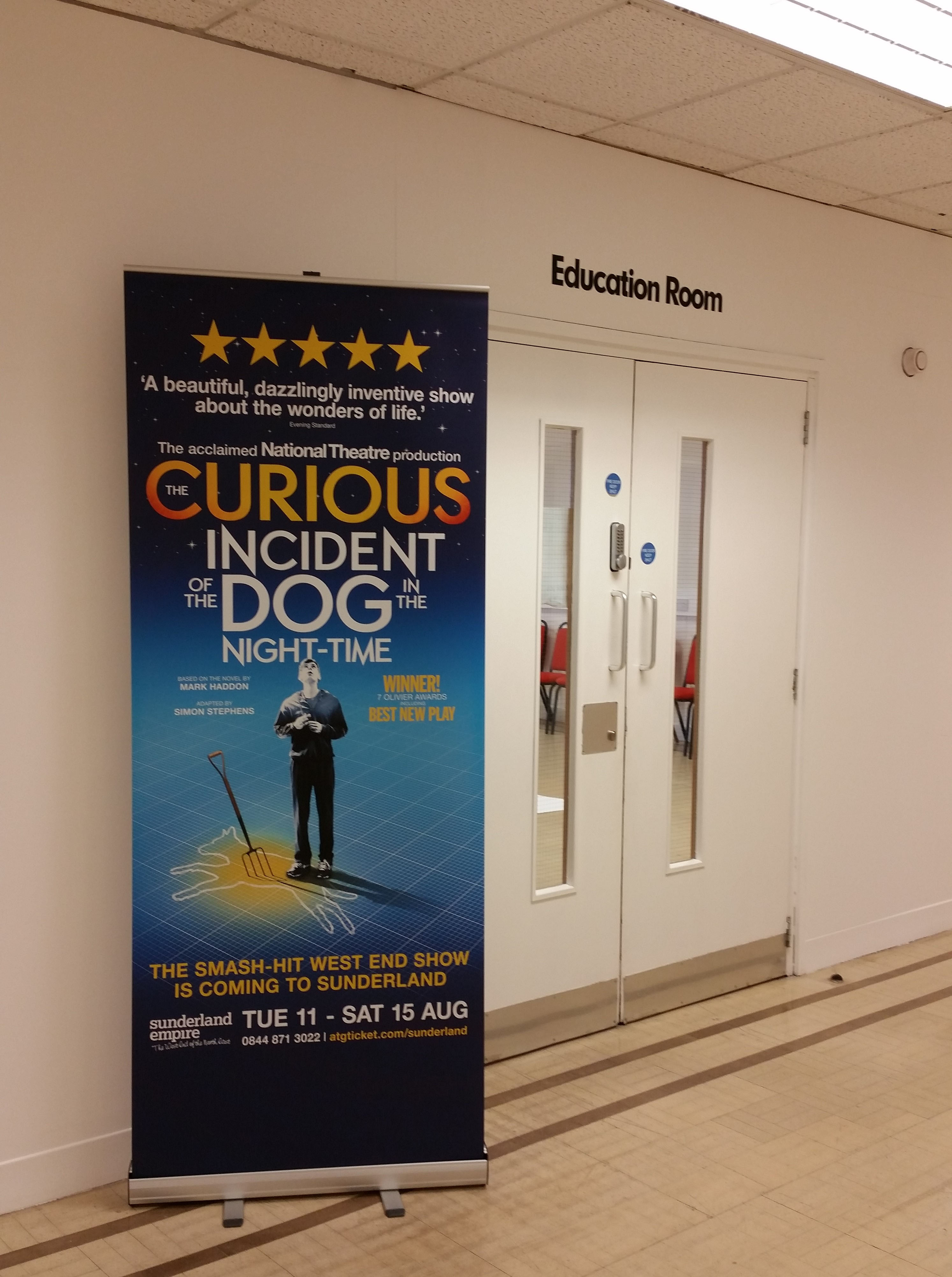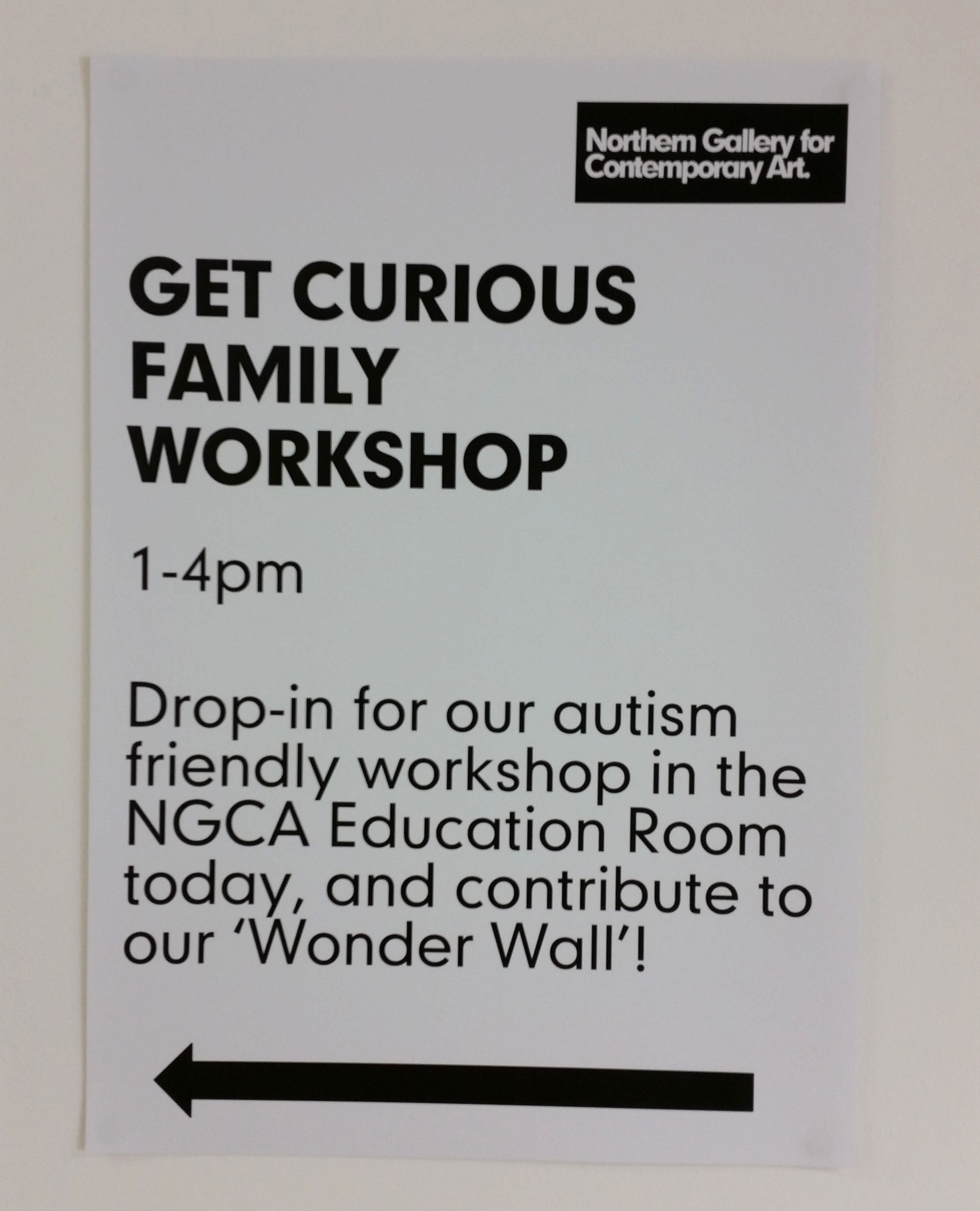 In response to Jeffrey Dennis' artworks, I worked with ASD families at NGCA, Sunderland, to create "The Wonder Wall" (2015). This was an exhibited installation artwork which consisted of life-size silhouette portraits and marbled bubble paintings of other worlds.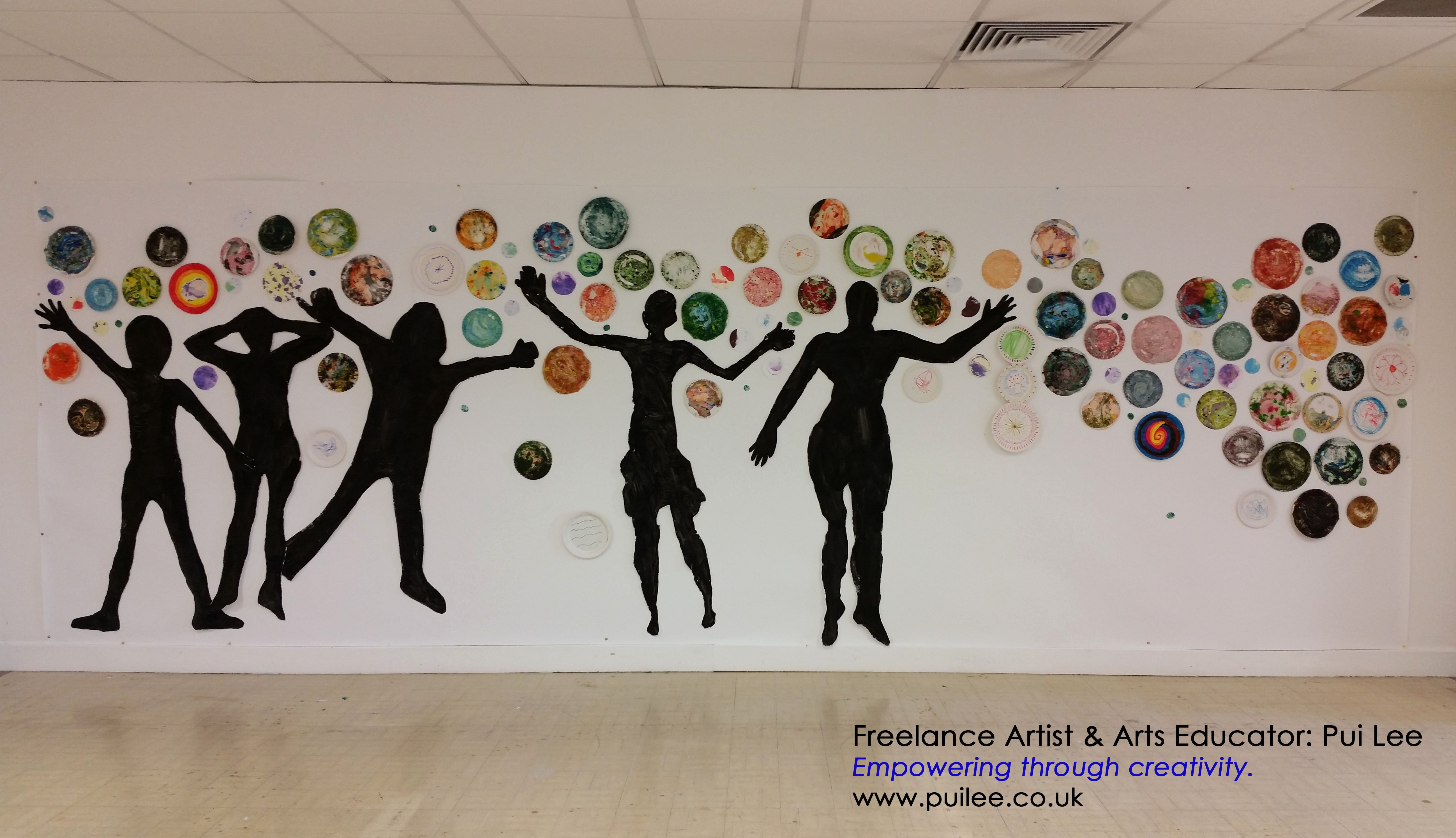 *************************************************
[Below:] The Blind-Side (2015) till roll installation, dimensions variable but to give you a rough idea, it's probably about 7.3ft tall (from the floor to the top of the paper at least) and 17.5ft wide. [Note: the photos were taken shortly after installing so the room was still empty of other people's artworks the time!]
Taking nearly five hours to install, this piece is made entirely out of till receipt paper and was made in response to the space in the Parquet Room as part of the West Walls artists group show at "Old Fire Station" arts centre, Carlisle, in December 2015. For me, the artwork is successful on both a conceptual and aesthetic level so I am happy with that!
Unfortunately, Carlisle then suffered major floods after Storm Desmond wreaked havoc across the northern part of the UK and the exhibition only lasted one day past the opening evening.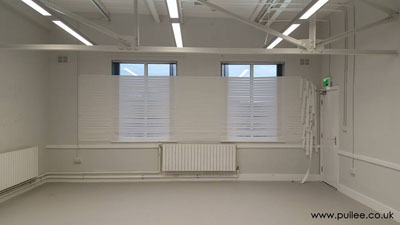 *************************************************
[Below:] All the Money in the World (2015) participatory till roll installation on wall, dimensions variable
Exploring ideas of wealth and value, this installation was made in response to the themes of the "Show Me the Money!" touring exhibition at The People's History Museum, Manchester, and was on display in the Learning & Access space in the show from 29th July 2015 to the end of 2015. For this participatory piece, visitors were invited to think about the following question and to write down their responses onto a piece of till receipt, which was then attached onto the wall: "If you had all the money in the world, what would you do with it/spend it on?"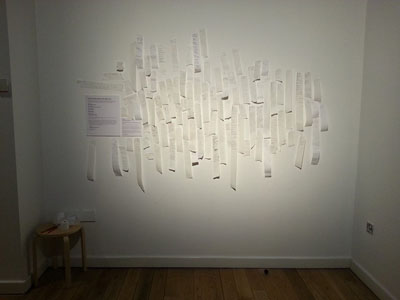 *************************************************
17/05/2013: "Make Your Own Roman Coins Using Clay and Try Your Luck on the Human Fruit Machine!" as part of the Museums at Night 2013 event: Legends and Lugavalium: Explore Roman Carlisle! To celebrate Local History Month! This was a family-friendly drop-in workshop.
The idea came about because I happened to know that Romans loved playing games of chance, despite gambling being illegal in Rome. My workshops are always carefully designed and planned, with a strong emphasis in conceptual relevance. The 'game' element has also featured in previous workshops of mine in some way or form, because I think it adds that extra bit of fun to things! ...And why is it called a 'Human Fruit Machine'? Well, there was no electricity in those days obviously... :-)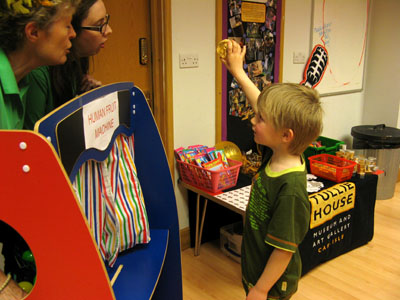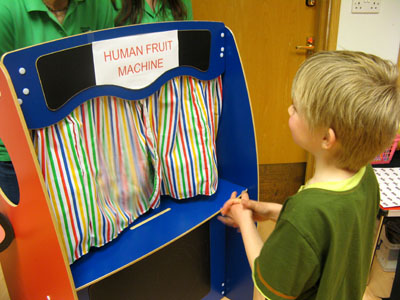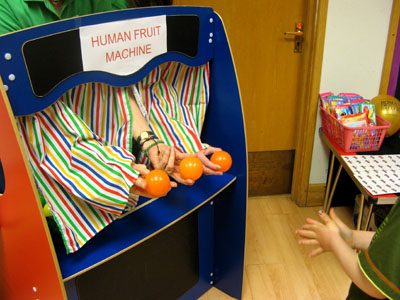 Participants had to show their finished clay Roman coin in return for 3 credits on the "Human Fruit Machine". Three matching fruits in a row won you top prize and two matching fruits won you a smaller prize. Only 3 or 4 people scored top prize during the course of the evening! The last half hour of the session was "Rollover" period and prizes tripled per turn, if successful! ...Exciting stuff!
There was lots to do during my workshop; the families even got to have a look at and handle real Roman coins from the museum's collections! Wow! :-O There were also relevant story and reference books to look at too.
For this workshop, I created a children's work booklet, which contained lots of interesting facts and useful information to support the main practical activity. I also created puzzle sheets as well. This meant that there was a strong learning element to the session and the children responded really positively to this, which was great to see!
*************************************************
West End Festival, Glasgow (June 2014)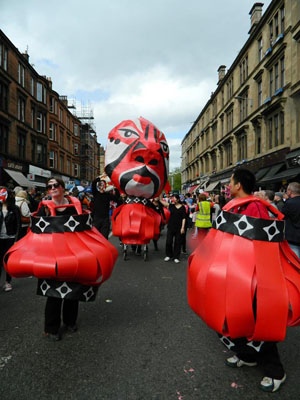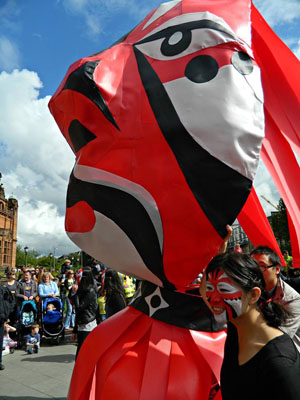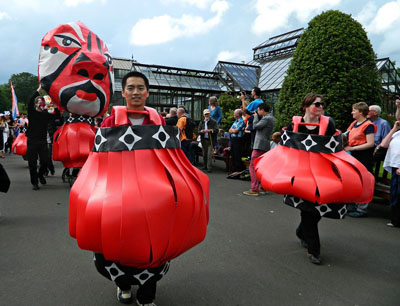 After a successful proposal presentation, I was invited to be involved in an exciting new collaboration between Ricefield Chinese Arts & Cultural Centre (Glasgow) and Bridgeman Arts (Glasgow) to work on a Chinese-themed section in the West End Festival 2014 parade, which is the second biggest festival in the UK!
I was commissioned to design costumes using scrap materials for the parade participants. Locals from the community then took part in my costume-making workshops at Bridgeman Art Studios. I was also commissioned to design and create a giant artwork (solo), which was used as a centrepiece during the parade itself. The overall design ideas involved a colour scheme of red, black and white; with red being symbolic of vitality and good luck in Chinese culture. The costume design was inspired by round Chinese lanterns and would be big and bouncy when worn and danced in.
This is my first ever carnival work but I was pleased to be given the opportunity to work on this brief as Creative Director!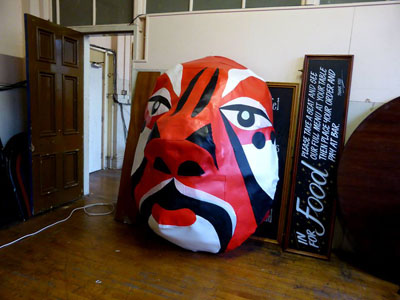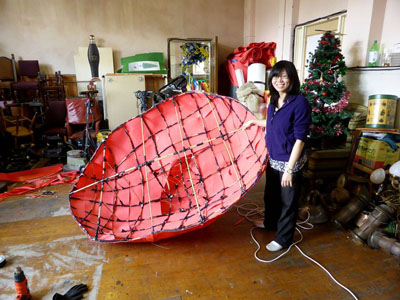 *************************************************
[Below:] Sweet City (2014), scrap materials, tape
09/04/2015: Drop-in Family Friendly Art workshop: "Create a big city installation out of recycled art materials with Artist Pui Lee!" at Northern Gallery of Contemporary Art, Sunderland. Inspired by the Caravan Gallery exhibition. The final installation, "Sweet City (2015), was displayed for the public in The Drawing Room at the gallery.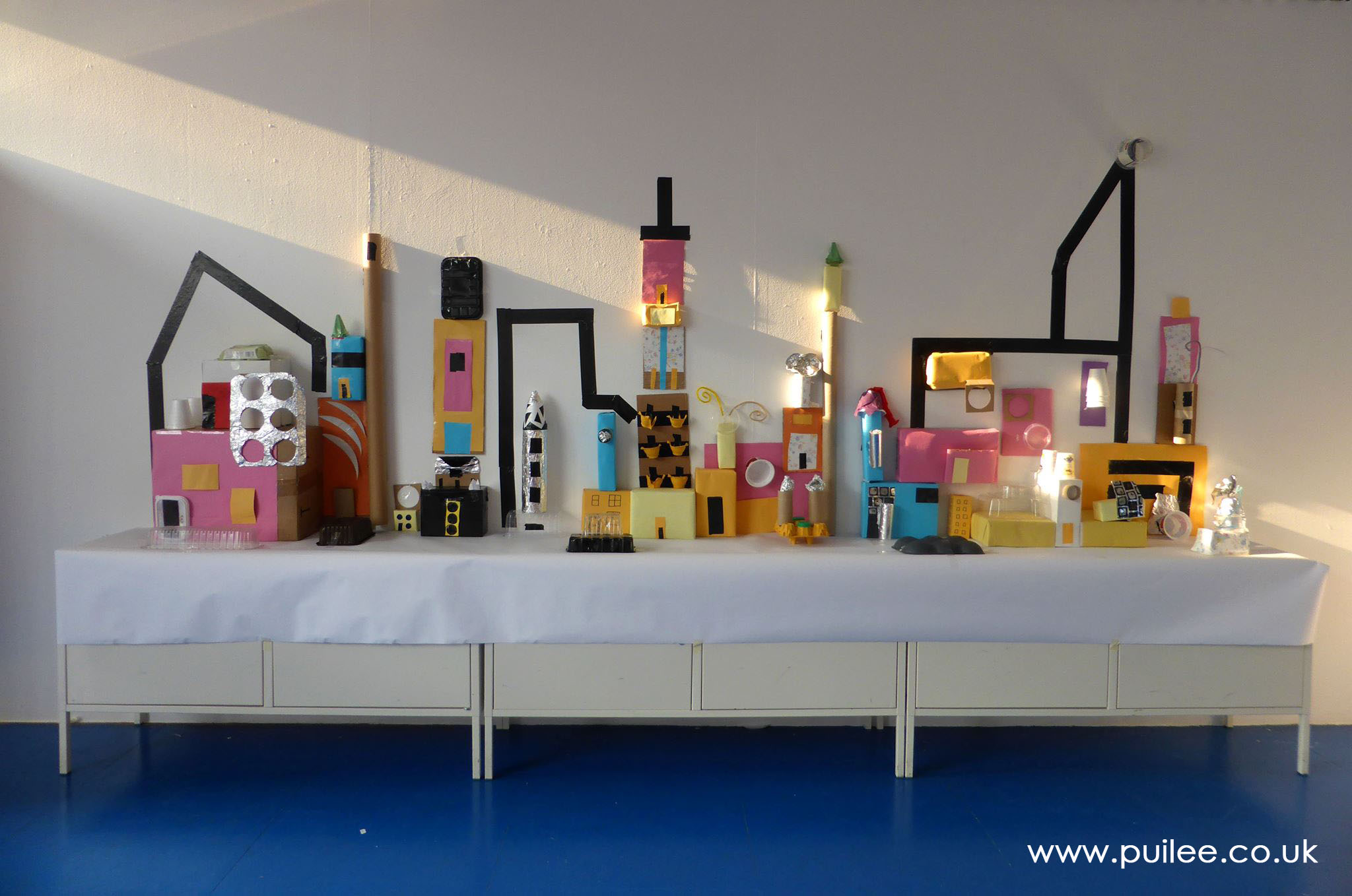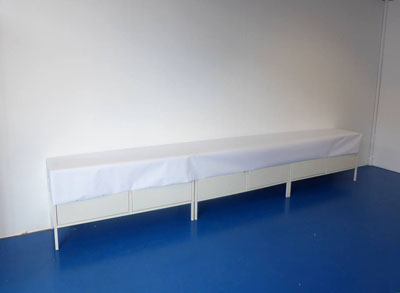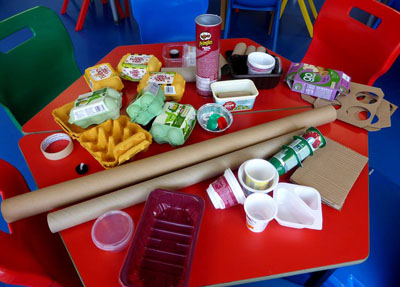 *************************************************
THE BIG DRAW 2013: "The Museum of Curiosities!" with Artist Pui Lee; at Tullie House Museum & Art Gallery Trust, Carlisle. (October 2013)
The 2013 Big Draw ran from 1 October to 3 November across the UK and in fifteen other countries, with more than 200,000 people of all ages joining in 1000+ events. These events were for those who love to draw, as well as for those who thought they couldn't!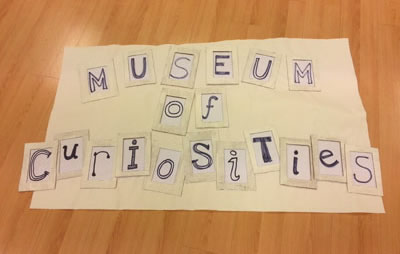 As part of the Big Draw! and Family Arts Festival 2013, artist Pui Lee worked with members of the public to transform the Community Room at Tullie House Museum & Art Gallery Trust, Carlisle, into a very unique "Museum of Curiosities". During a series of arty drop-in workshops, she invited the people of Carlisle (and beyond!) to use their imaginations to come up with ideas of weird and wonderful artefacts for this hand-drawn museum!
With the theme being: "Draw Tomorrow!" I wanted to create a site-specific project, which was both relevant and fun. Museums are often regarded as a place that celebrates the past, but my proposed, "Museum of Curiosities", will instead celebrate the future and offer a 'preview of life's coming attractions'. After all, Einstein did say that, "Imagination is more important than knowledge." The project explores ideas of artefact, museum collections, time, authenticity, audience, notions of value and the act of looking. Tullie House is a wonderful museum to explore and is a great place to visit for all ages. The resulting collection is intended to inspire wonder and inspiration, an eclectic fusion of what had once been and what could well be.
In the event, I hoped to inspire all members of the public to engage with the act of drawing so that they could work towards creating a collaborative hand-drawn installation piece, "The Museum of Curiosities"! It would be a memorable and enjoyable experience for all involved. My working ethos is to empower people through creativity. I hope to make a difference with what I do, whilst promoting the value of art in our overall wellbeing and enjoyment.
Upon entering the workshop, participants were directed to the "Ideas Station" where they could quite literally "draw out" some "instructions" and/or "themes" from the artist's "Random Idea Generators" in to help them create a drawing. These "instructions" included: "Draw an object using one line only.", "Draw an object with your eyes closed.", "Draw any object in the room and give it legs!" etc. Participants also created drawings of random objects and also those from the museum's collections (images and actual artefacts), and then combined them to create a weird and wonderful new object/artefact. Visitors were also encouraged to go around the museum to spot some "curious" looking items to create drawings from and were also given a special "drawing window" to use on their travels. Some participants brought in their own objects to draw and discuss too.
Throughout the two days, everyone's drawings were added onto the various "shelves" at the "Museum of Curiosities" for public display. A total of 233 drawings were created by the end of the weekend. Some were taken home but most were included in the final installation.
The final hand-drawn installation was then exhibited to the public for one week after the Big Draw! event. Its opening times were: during the afternoons of Monday 21st October 2013 – Friday 25th October 2013 and Sunday 27th October 2013; 1pm-4pm.
For those who could not attend the event, there were also a number of opportunities to get involved in the project:
1. Drawings in any media could be scanned in/photographed/created on Apps and emailed to the artist for inclusion on http://museumofcuriosities-bigdraw2013.tumblr.com/, which features all the individual drawings made as part of the Big Draw event.

2.The Museum of Curiosities also has its very own Virtual Collection of Curiosities for members of the public to submit a photograph of any object, which they found to be "weird", "wonderful" or "just plain curious". http://museumofcuriosities.tumblr.com/ This was one unique collection you definitely will not have seen before - and more importantly, you can see it anytime and anywhere! A total of 130 photo submissions of "objects" were actively submitted for inclusion in the virtual collections at The Museum of Curiosities.
3. "The Curator's Choice: Highlights from the Virtual Collections" is viewable at www.facebook.com/museumofcuriosities where people could comment, LIKE and share their thoughts about the objects they see. Basically, the idea behind this is to stimulate some kind of dialogue about unique and interesting objects that hold some personal meaning to at least someone out there! The Facebook page has attracted a lot of attention with some images having already being viewed by well over 540 people since it was first set up on the 18th October 2013.
Using technology creatively was a key part to this project. If this is a project about drawing tomorrow, then it was important to also embrace the advantages of new technologies in order to expand our ways of communication and accessibility issues. The online virtual gallery definitely helped to widen the possibilities for people to engage in the project.
The project was widely publicised and even got featured in a double page spread article in the News and Star newspaper! See link ---> (coming soon)
Other participant comments from the event included:
"That was really quite therapeutic for me!"
"It's so easy to get lost in your drawing. I haven't done any since school and I was told back then that I wasn't any good; but I really enjoyed that so thank you for inviting me in."
*************************************************
The Big Silk Banner Project: The Seven Olympic Values (2012-2013)
During 2012-2013, Pui Lee undertook an Artist-in-Residence project at Throckley Primary School, Newcastle, on a part-time basis, whilst maintaining her other freelance work commitments. The project concluded in May 2013.
Final Outcome: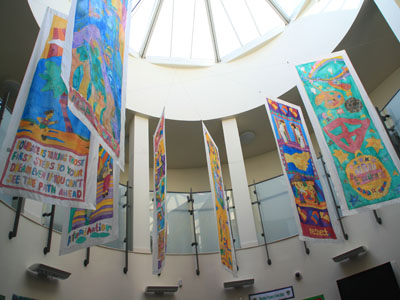 Project Brief: To create a silk banner installation, which explored ideas relating to the seven Olympic Values, which will be put on permanent display at the school.
The Site: [pics to come...]
The Process:
Initial consultation with the school about what they hoped for from the project and where the piece will be installed.
Artist research.
Detailed proposal (inc. methodology) and budget breakdown submitted and approved.
Planning commences.
Design Day working with pupils at the school to generate visual ideas in response to the Olympic Values. The workshops included: a group discussion about the significance of the Olympic Values and how they can be applied to everyday life, demonstrations of silk painting by the artist and then the main practical activity where pupils created their drawings using watercolour and wax crayons.
Artist collected, interpreted and transformed the children's drawings into the seven finished banner designs.
Artist then begun the banner production with stretching the silk onto wooden frames and then drew on the final designs onto the silk for painting.
Painting Day #1: Working with Foundation, Years 1+ 2 and Year 3 on the first four banners.
Painting Day #2: Working with Years 4 and 5 on two of the banners.
Painting Day #3: Working with Year 6 on the final banner.
Artist carries out final finishing touches on the banners.
Artist irons all 7 banners on-site and makes arrangements for the pieces to be hemmed.
The silk banners are then hemmed (-Thank you Ms Edmundson!) and are installed into the rotunda space at the school reception area.
GALLERY:
Design Day: "The children were brilliant. -Really attentive and they had lots of good ideas to offer about the Olympic Values. Most of the children had not done silk painting before so this was going to be a special new experience for them. On the Design Day, the children translated their ideas into visuals by using watercolour paints and wax crayons, which would mimic the silk painting process in a low-tech way. Again, many of the them had not seen this process before so to quote one child, "It's like MAGIC!" :-)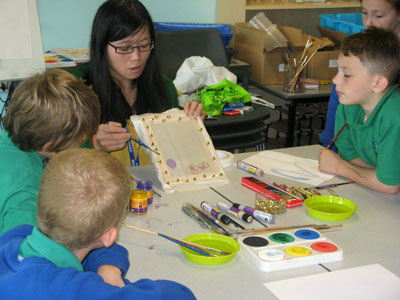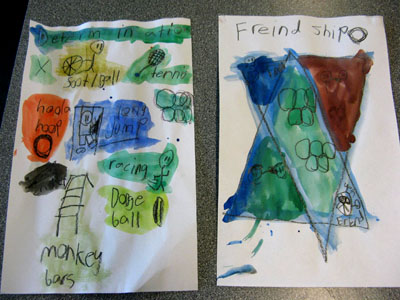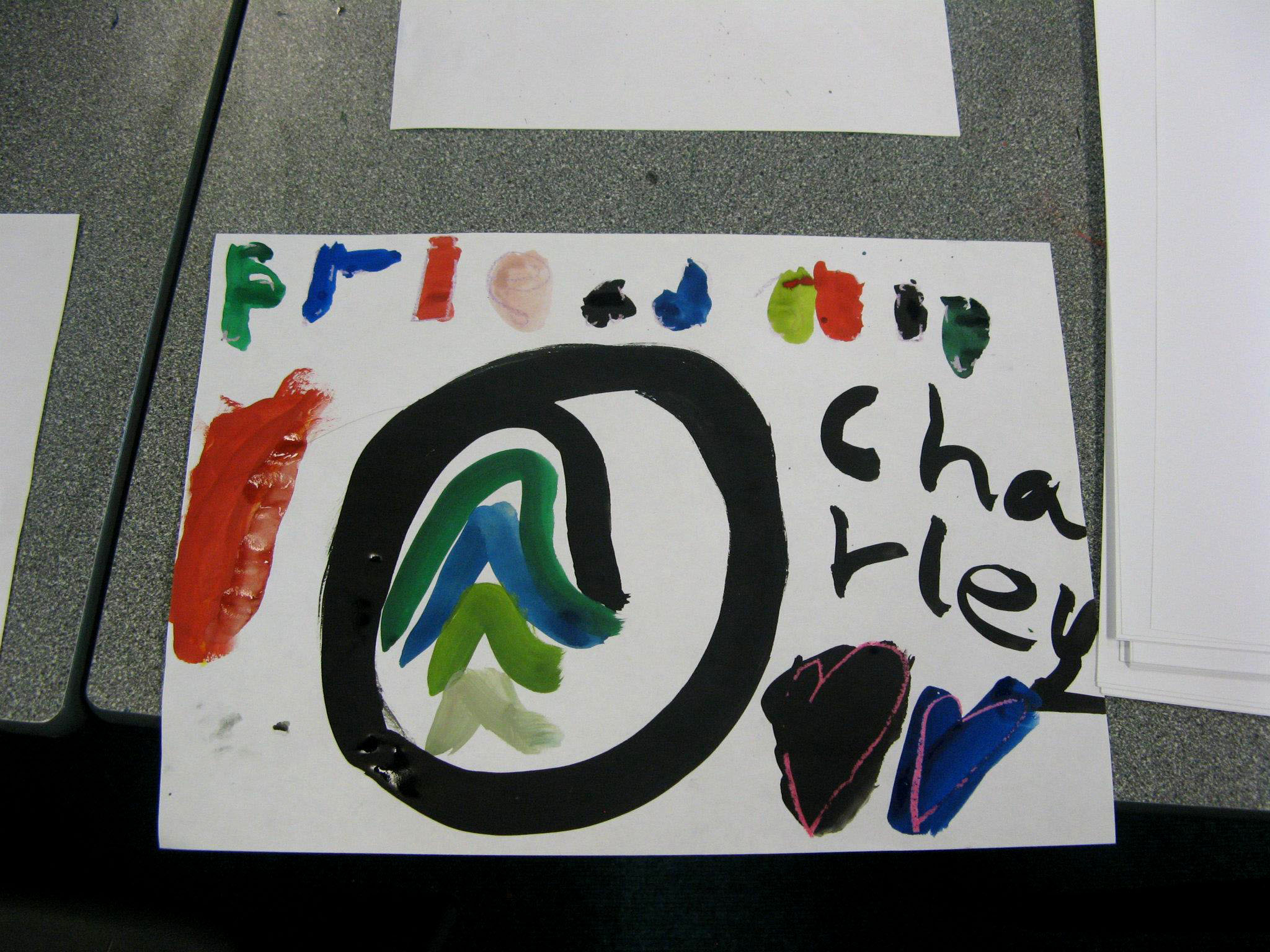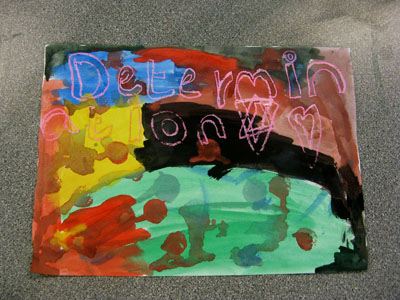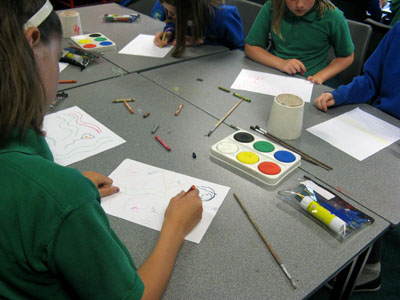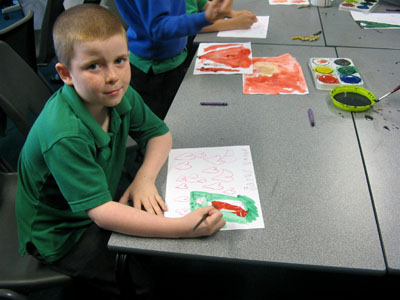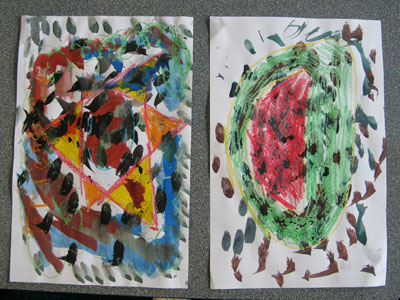 Working on-site at the school for the production part of the project: (The children were very inquisitive and enthusiastic about the project. They often popped by to see what was happening!)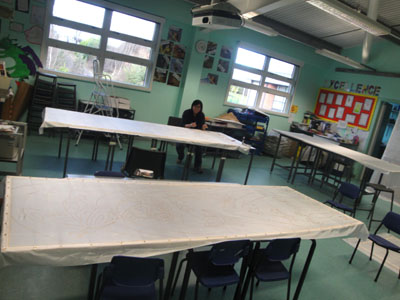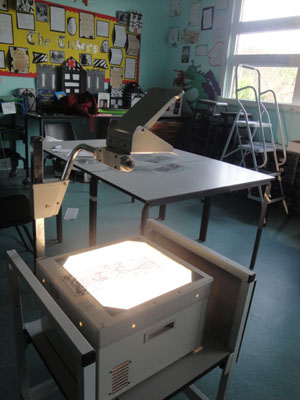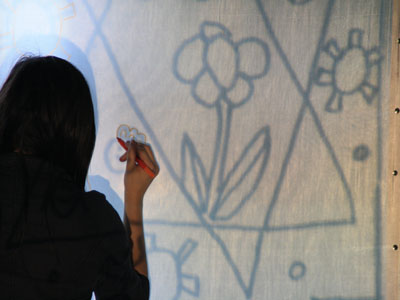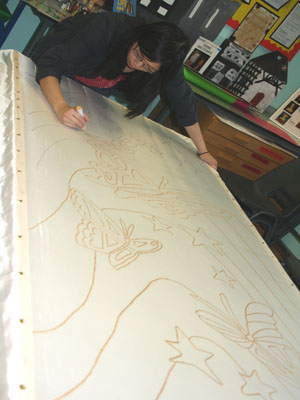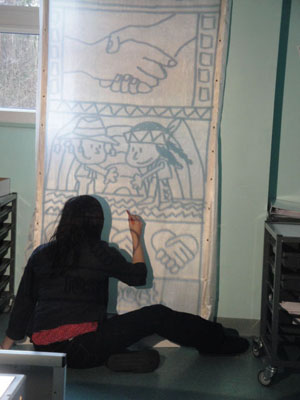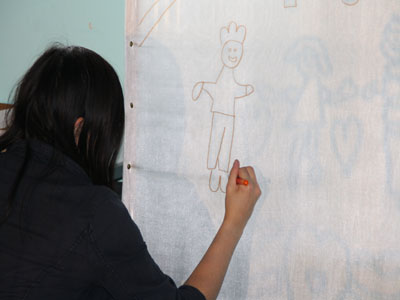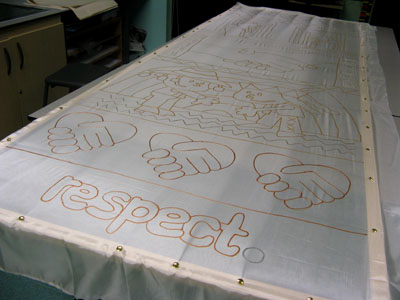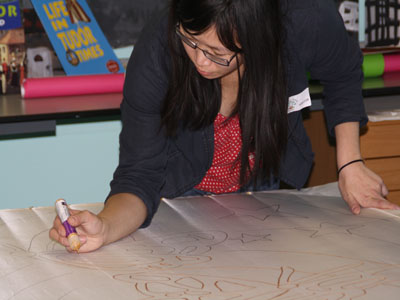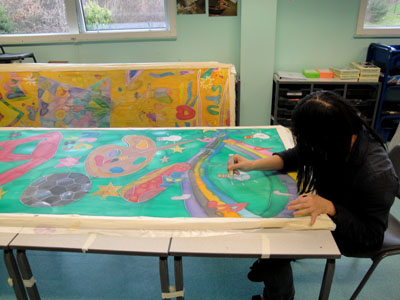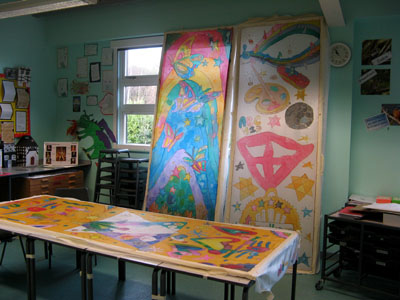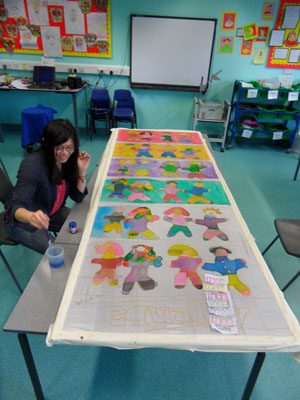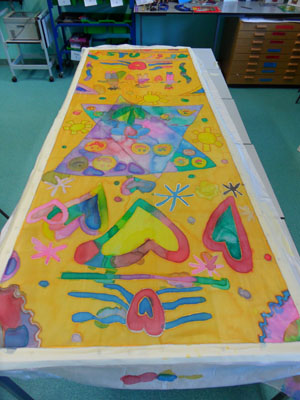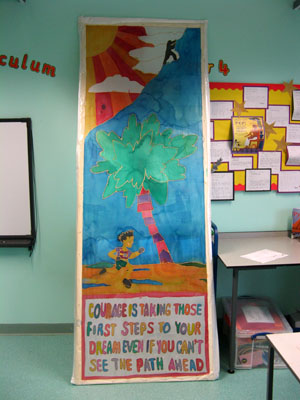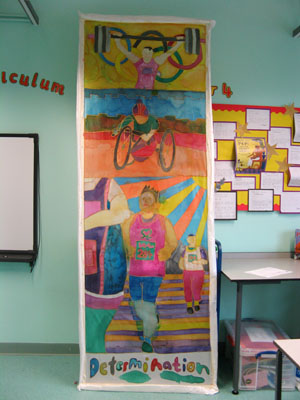 On Painting Days: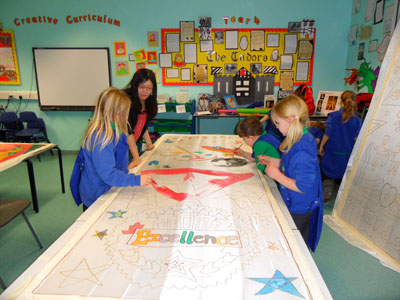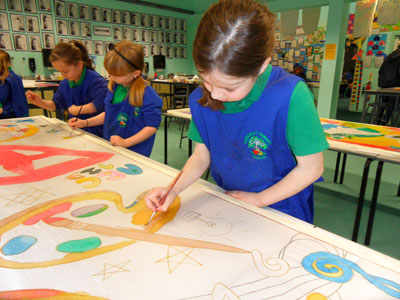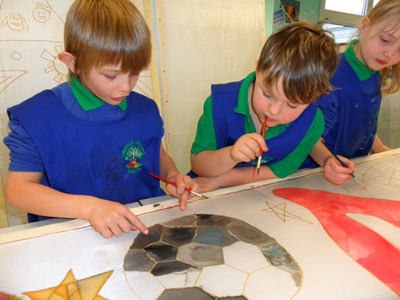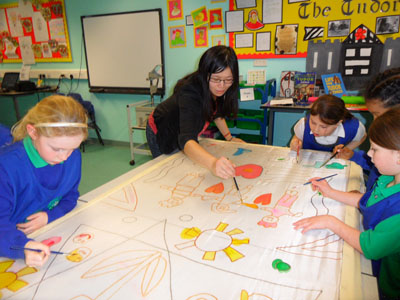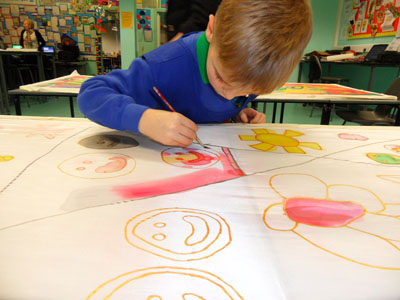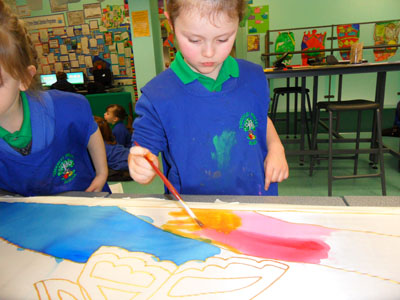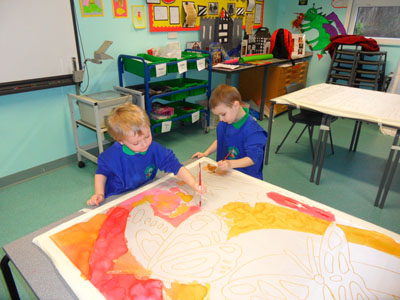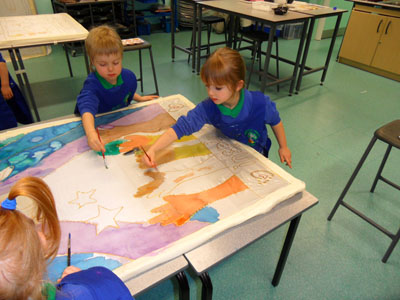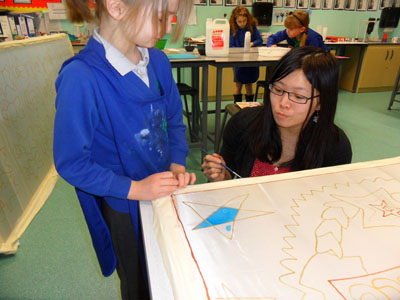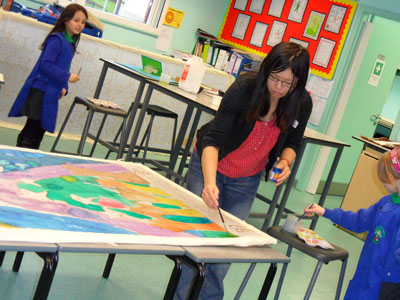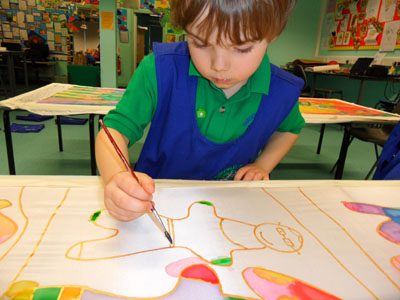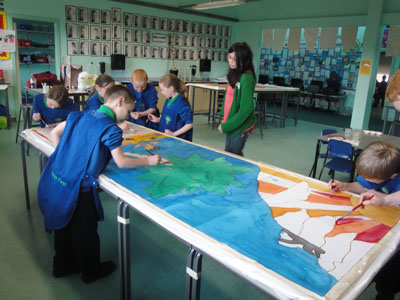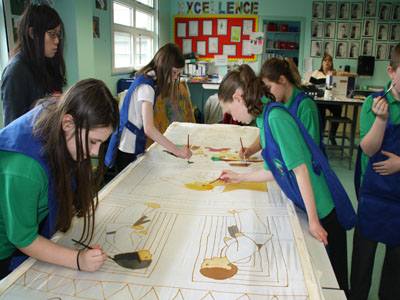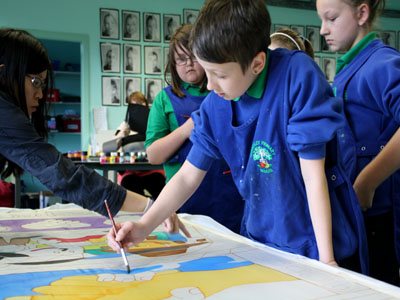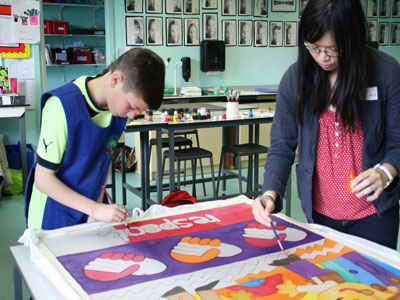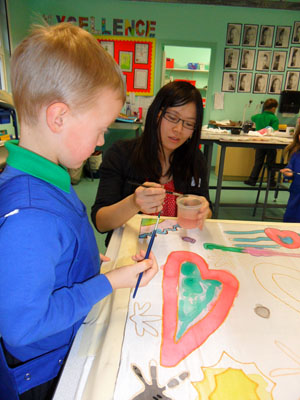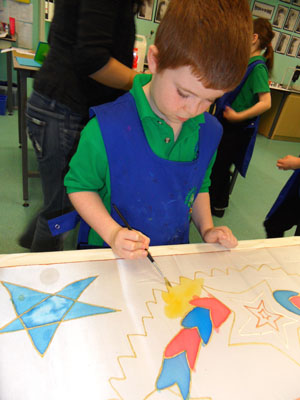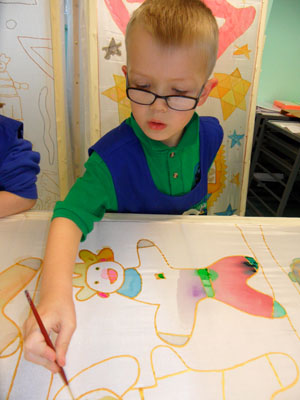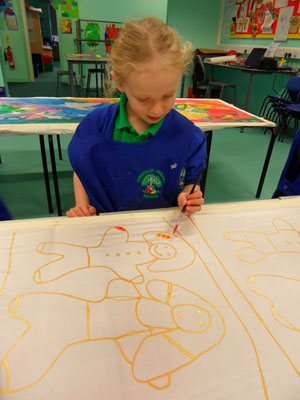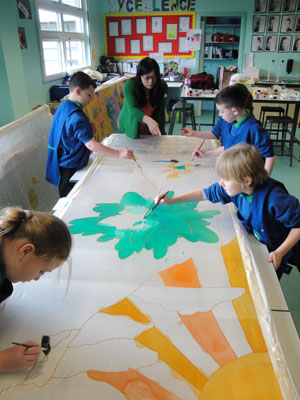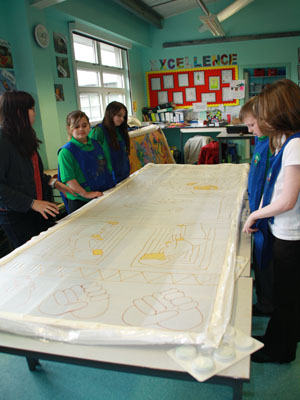 Images of Final Piece In-Situ:
Artist comment: "I feel that the final piece has been really successful. Every pupil in each year-group has got the opportunity to work with me to paint a silk banner so the project was really inclusive in design. More importantly, the ideas for the designs has come from the pupils themselves so it really is a collaborative whole-school project. I am so pleased that I got the opportunity to work on this project. It has been so much fun and the end result looks great! I love how as soon as you walk into the reception of the school your eyes are just drawn upwards towards the banners! They look amazing when they catch the sunlight! It certainly gives them that extra special 'wow-factor'! ...This really is a statement piece for the school, representing everything that they stand for and work towards!"
Parent comment: "They look fantastic! Well done!"
Parent comment: "They look great, Pui! Seen them on Parent's Evening!"
*************************************************
The Heart of Britain (2012)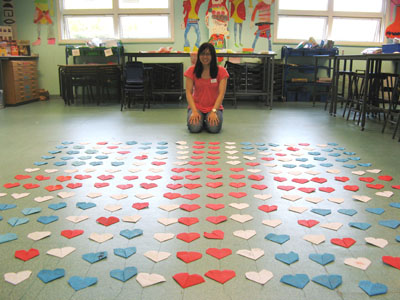 The Concept: The piece was designed originally to commemorate the 2012 Jubilee celebrations. This then made me think about what it meant to be British and then it made me think of different people coming together and being united as a whole. I had my own ideas about what it meant to be British but I was interested in what the school thought too. I suppose this ties in with my interests about notions of identity.
I then proposed to visit the school to deliver a series of origami-heart making workshops, where selected pupils and staff were invited to draw out/write down their own personal responses onto their origami hearts about why Britain is so great and what exactly makes Britain British. The pupils who took part in the workshop then had the opportunity to go into other classes to pass on their skills and knowledge, so that their peers could make origami hearts for the project too. I like the idea of this exchange of ideas between year-groups and it helped to unite the different classes and bring them together.I then collected all of these hearts in with the intention of creating a giant curtain of hearts, which would portray the Union Jack Flag.
(31/05/2012) Pui says, "I had a lovely time and even got to show the Mayoress of Newcastle some origami techniques! Sat in on the children's Jubilee song performances in their special Jubilee assembly and it was a very pleasant afternoon!"
I came up with this design after producing a series of drawings and sketches. When creating such a large scale piece, it is really important that I make the appropriate plans so that the outcome turns out like I had hoped for. This process of working out the design and then threading the individual hearts was a lengthy one - but worth it! :-D All in all, I felt that this would be an appropriate big bold visual statement, which would celebrate 2012 as being a year to remember! A grand total of 252 hearts were created for this participatory installation piece! :-O
Pic of final piece in-situ coming soon...! The site was chosen by the head and the staff and it will be installed very soon!
*************************************************
COMMUNITY ART WORKSHOPS AS PART OF CULTURAL OLYMPIAD AND HADRIANS WALL TRUST FUNDED PROJECT, CONNECTING LIGHT (2012):
24/07/2012: Designed and delivered a series of 2-3hr Art Workshops (inc. Project Feedback) with groups from Cestria House, Newcastle (Heatherfield Care Group); Gateshead Carers Association, Tyne & Wear; and Newbrough Womens Institute, Hexham. Themes explored: Home, Connections, Boundaries & Place. As part of Cultural Olympiad and Hadrians Wall Heritage funded art project, "Connecting Light" by New York arts collective YesYesNo.
Click here for more info and full photo gallery.
*************************************************
(26/05/2012): Artist Pui Lee did a big art project as part of the Step Out charity event at Saltwell Park, Gateshead. 10am-2pm. She worked with the local families to create a big field of weird and wonderful flowers. Penguins were also spotted in the park as the artist showed locals how to make their very own penguin! Donations came from the event and from a collection box, which circulated UKTC North East Taekwon-do classes, which Pui is part of. Pui says, "The event was well turned out and I am pleased to say that a grand total of £142.55 was raised for The Stroke Association charity as a result.
Click here for the full photo gallery for the Step Out: "Penguins in the Park" event!
*************************************************
[Below:] "Noah's Ark" (2012); MDF, acrylic, varnish. Installed at High Heskett C of E Primary School, Cumbria.
The brief was to create a piece based on the theme of Noah's Ark, which would brighten up an infant play area at the school. I came up with various designs for the piece and painted the characters with vivid bright colours, which would put a smile onto any face! School staff were pleased with the outcome.
Thanks also to Chris Debinson from W.M. Joinery, Carlisle, and assistance with the cutting, construction and installation side of things; thus, helping me to realise my vision for the piece. -Your kindness and support has been invaluable!
*************************************************
[Below:] "Hopscotch! #2: Wakefield" (2011) carpet squares and duct tape installation, approx 10m x 1m long. On 25th May 2011. As part of Temporary Art Show 3: Part 2 (2011) At Westgate Studios, Wakefield. This piece allowed me to explore ideas of site specificity and viewer interaction on new territory. The artwork acted as an appropriate entrance to the exhibition and studios. It helped to draw in new visitors as well as provoking people to ask questions about what it was and why it was there. Reactions included: curious looks, complete ambivalence, many avoiding to walk over the piece (carefully tiptoeing to the side), a few playful games of hopscotch... and even the Highland Fling was performed on it!
*************************************************
[Below:] "Red Carpet: Wakefield" (2011) carpet squares and duct tape installation, dimensions variable. On 25th May 2011. As part of Temporary Art Show 3: Part 2 (2011) At Westgate Studios, Wakefield. Installed at entrance foyer. The artwork made reference to the idea of game in terms of popular pixelated arcade games like Snake, whilst suggesting the importance of the exhibition viewer in relation to an art show.
*************************************************
[Below:] "Untitled" (2011) carpet installation, dimensions variable. On 25th May 2011. As part of Temporary Art Show 3: Part 2 (2011) At Westgate Studios, Wakefield.
*************************************************
[Below:] Public Art Intervention #1: "Hopscotch!" (2007) carpet squares and duct tape installation, 86m x 1m. On 6th-9th September 2007. At Paternoster Row/Castle Street, Carlisle. This was featured in News and Star newspaper, Lookaround Border News and on BBC Radio Cumbria too. It was the talking point of the city at the time and locals wondered where it had appeared from and why. There was even speculation that it was an advertising stunt. The original piece was actually created and installed some months earlier but was removed by disposal men, who mistook it as litter! The artwork was very well received in the end and the locals mostly engaged positively with the artwork. I enjoyed observing people interact with the piece whilst it was there. Some said it evoked of memories of childhood - a carefree, colourful, happy-go-lucky and safe existence. Others saw it as a feat of endurance - to hopscotch from the start all the way down to the last tile. Just one gentleman called it "vandalism". At this point in time, this was my largest artwork to date! I'm not certainly not afraid to be ambitious and think BIG!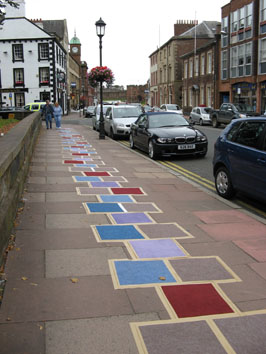 *************************************************
[Below:]Rubbish (2007) metal bin, paper; dimensions variable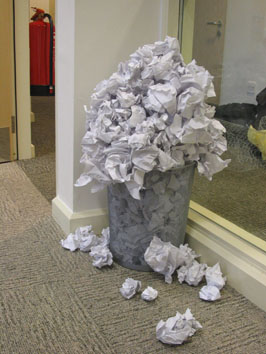 *************************************************
[Below:] Haven (2006) video installation, dimensions variable. Described by viewers as being, "minimal yet poetic".
*************************************************
[Below:] Untitled (window) (2006) video installation, dimensions variable.
*************************************************
[Below:] Untitled (self-portrait) (2006) whitewash installation, dimensions variable. Exhibited at Fold Gallery, Kirkby Stephen.
*************************************************
[Below:] A Message to You (2006) post-it note installation, dimensions variable. Exhibited at Red Wire Gallery, Liverpool. As part of Liverpool Biennale Independents 2006.
*************************************************
[Below:] A Message to You (2005) post-it note installation, dimensions variable. Exhibited at Cumbria Institute of the Arts, Carlisle.

*************************************************
[Below:] Self-Portrait (2005) sellotape; dimensions variable
Sellotape is an everyday and sometimes taken for granted material. Its adhesive quality exists to allow it to attach things together and to forge a literal connection between one surface and another, unifying two sometimes disparate objects into a unified whole. The material is both transparent, offering possibilities for invisibility and visibility, but like human beings is just as susceptible to change through time. It can age just as we do, it is as temporary as we are: it can lose its stickiness (its function) and becomes discoloured and brittle. If exposed, it can attract dust and become opaque over time.
This conceptually challenging work investigates themes of the body and the self by exploring space and using mundane everyday materials. The piece refers to notions of boundaries and the relationship between internal and external spaces. The process of making here echoes a methodical and obsessive tendency. The process itself will reference ideas of self-preservation by creating a web or barrier.