Parade Art and Festivals:
Available for art-making for parades, carnivals and festivals! Willing to travel.
*************************************************
Hand-Made Giant Chinese Dragon Commission for Chinese New Year Festival in Carlisle! (Feb 2018)
I was Artist-in-Residence at Tullie House Museum and Art Gallery, Carlisle, for this project. For only three days (10am-5:30pm hours), I was given the opportunity to design and create parade art for Carlisle's first ever Chinese New Year festival! The brief was only for it to be GIANT so I decided to create a 26ft (8 metre) long Chinese Dragon for the parade on 16th February 2018! My idea was to create a fabulous, friendly and lucky dragon, which would spread positivity to the local community! Thus, I intended it to reference Chinese symbolism within its design. For example: it was 8m long and 8 is the Chinese lucky number. Likewise, the dragon would be predominantly red, which it symbolic of good luck and fortune in China. Elements in yellow and gold in the design would be symbolic of wealth and happiness.
Although the concepts and building were by myself, local families also got the opportunity to take in part of the production because I wanted them to have some ownership over the dragon too. So during those three days, I also ran a family-friendly drop-in workshop (whilst working on the building of the piece) where I invited participants to draw out a "Fu" symbol (which means good luck in Chinese) onto red paper, reminiscent of the Lucky Red Packets given out over the Chinese New Year period. These would then form the scales of the dragon and were later attached onto the body of it. Approximately 540 scales were collected by the end of the project! The giant Chinese dragon then took part in the parade procession. It was an intense working period but a fantastic challenge - I certainly had a great time working on the project! The feedback was so positive about the piece!
*************************************************
25 YEARS: ...To Infinity and Beyond! (July 2016)
I was Artist-in-Residence in Fleetwood, near Blackpool, for this community arts engagement project.For one week, I worked with staff from the award-winning Alphabet House Day Nursery in Fleetwood to create parade art for this year's Spare Parts Arts Festival as part of the annual Tram Sunday celebrations! The brief was open to interpretation but had to link into the idea of journeys in some way and would involve using decorated prams/buggies in the parade line-up. My idea was, "25 YEARS: ...To Infinity and Beyond!" to celebrate their 25th anniversary as the top pre-school provider in the local community - the idea of the nursery launching these young children into the rest of their life - fulfilling ambitions and their individual potential, so that they can make a positive step for man-kind! Prams and buggies were transformed into super cool space rockets for the children to ride in... there was a "still" flag so that the nursery can spread the message of their presence in the community... astronaught-inspired costumes were also made. The aesthetics were kept purposely hand-made looking and monochrome to link to the idea of being a child and colouring books with dashings of primary colours on the faces and flag. Although the concepts and visuals were mine, the staff members all took part in every part of the production because I wanted them to have some ownership over the project too. They then performed in the parade with the finished pieces in a "V" type formation with spacey music playing. I had a great time working on the project and I also delivered some Creative Professional Development Workshops for local art teachers, youth leaders and parents in the local community too prior to this.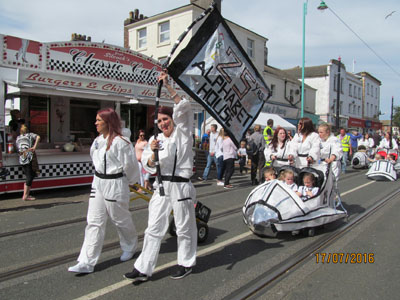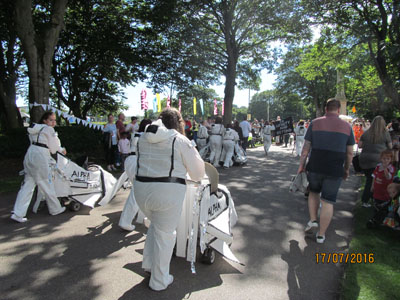 *************************************************
West End Festival in Glasgow! (May-June 2014)
After a successful proposal presentation, I was invited to be involved in an exciting new collaboration between Ricefield Chinese Arts & Cultural Centre (Glasgow) and Bridgeman Arts (Glasgow) to work on a Chinese-themed section in the West End Festival 2014 parade, which is the second biggest festival in the UK!
I was commissioned to design costumes using scrap materials for the parade participants. Locals from the community then took part in my costume-making workshops at Bridgeman Art Studios. I was also commissioned to design and create a giant artwork (solo), which was used as a centrepiece during the parade itself. The overall design ideas involved a colour scheme of red, black and white; with red being symbolic of vitality and good luck in Chinese culture. The costume design was inspired by round Chinese lanterns and would be big and bouncy when worn and danced in.
This is my first ever carnival work but I was pleased to be given the opportunity to work on this brief as Creative Director!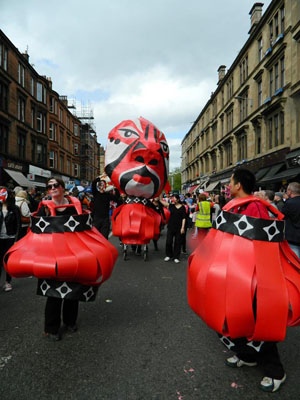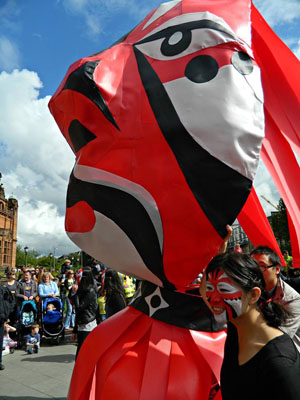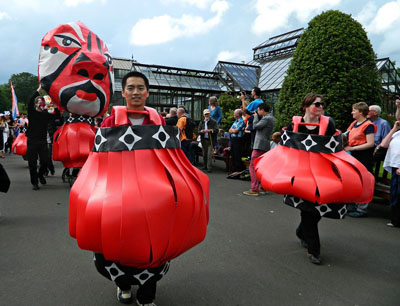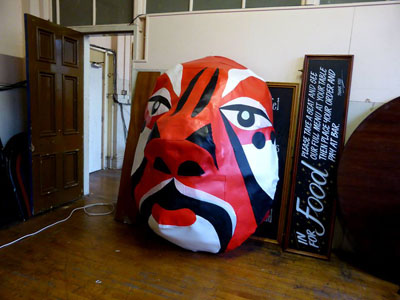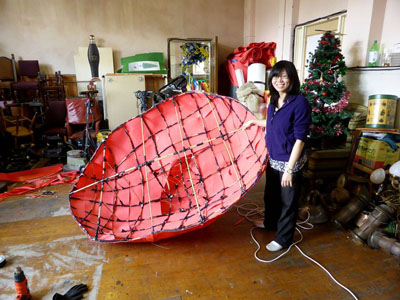 ********************************************************************************
If you are interested in booking a workshop, please contact me direct on 07970 785 030 / pui_lee@hotmail.com