The Big Draw!: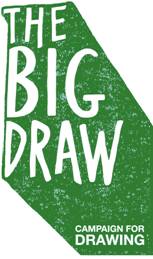 The Campaign for Drawing is an independent charity which raises the profile of drawing as a tool for thought, creativity, social and cultural engagement. Drawing is fundamental as a basic human skill and is useful in all walks of life. The Campaign's work will finish when the words 'I can't draw' are dropped from our vocabulary. Since its launch in 2000, The Big Draw has successfully supported the Campaign for Drawing's aims by encouraging everyone to draw. Big Draw events highlight the power of drawing to help people see, think, invent and take action.
*************************************************
THE BIG DRAW 2016: ..."Somme Big Draw!" with Artist Pui Lee; at Cumbria's Museum of Military Life, Carlisle. (26th October 2016) To coincide with "Voices from the Somme 1916-2016" exhibition.
Families explored the exhibition with Pui's hand-made "drawing windows" and created drawings of the soldiers from the exhibition. I then showed them how to create giant hand-drawn medals with these. The original plan was to create some kind of display with the giant hand-drawn medals -and there were certainly enough created on the day- but I found that a lot of the children were so proud of their drawings that they wanted to take them home and to take into school to show their family, friends and teachers about what what they learnt and got up to at the museum. I felt that this was equally as appropriate and linked into the idea of memory and remembrance in a much more personal way. - taking something physical away with them and talking to others about it all. There was also another activity, where particicipants drew silhouettes onto pieces of acetate. The drawings were handed in as the day progressed andpeople were invited to interact with the drawings and to arrange them in a way that made sense to them. They could move the drawings around, add further drawings, remove (temporarily) existing drawings, layer the drawings etc. It was their individual interpretation. On a sciencey note, children learnt about light, shadow, transparency, scale and formal qualities in art. etc. This activity resulted in the creation of a big projected collaborative drawing of soldiers in the war.
[More pics to be uploaded]
THE BIG DRAW 2015: [Theme: Music!]..."Creative Compositions!" with Artist Pui Lee; at Cumbria's Museum of Military Life, Carlisle. (27th October 2015)
During the drop-in event, participants of all ages literally drew out song titles and/or song lyrics from the artist's "Random Ideas Generator". They then created their own drawings in response to these phrases by using crayons, pastels, paints, coloured tape, collage, pencils and/or marker pens. There was also the opportunity to listen to the museum's interactive music collection downstairs as well as the new coinciding bugle sound art piece by UK artist Amie Slavin also on show here.
Artist Pui Lee says, "It was great to see such a good turnout for this, as the museum does have a wealth of interesting objects and resources for people to use as inspiration. There was also something really lovely about seeing the grown-ups and children trying to work out where the song lyrics came from or how a particular song went! There was definitely some impromptu singing here and there whilst the drawings were being made! Well done and thank you to everyone who took part! I really enjoyed arranging all the fabulous drawings together at the end of the day into a new and exciting composition! After all, every drawing tells a story! …Enjoy!"
These are all the song titles and/or lyrics, which inspired different parts of the final artwork:
…Do you recognise any of the words?
…Can you spot which parts of the drawing might be in response to which phrase?
"Remember, remember…"
"Underneath the arches…"
"Rain, rain, go away…"
"He had ten thousand men…"
"Quick march!"
"-and broke his crown…"
"Marching feet…"
"The world will sing again…"
"I'll be seeing you…"
"Little Boy Blue…"
"He wears a pair of silver wings…"
"Everything stops for tea…"
"And it looks like I'm the queen…"
"Here I stand and here I stay…"
"Ding Dong Bell…"
"Turn away and slam the door…"
"The cold never bothered me anyway…"
"Shut up and dance!"
"A whole new world…"
"Always in my heart…"
"Rule Britannia!"
"Land of hope and glory…"
*************************************************
THE BIG DRAW 2014: [Theme: Our World!]..."The Local Heroes Project!" with Artist Pui Lee; at Cumbria's Museum of Military Life, Carlisle. (29th October 2014)
At my drop-in drawing workshop today, I was on hand to show participants different drawing techniques as well as how to draw a portrait. This is a project which celebrates the special people in your life. "Local Heroes" project 11am-3pm. More info coming soon...
*************************************************
THE BIG DRAW 2014: [Theme: Our World!]..."Curated by You!" with Artist Pui Lee; at Tullie House Museum & Art Gallery Trust, Carlisle. (11-12 October 2014)
...The Big Draw! again at another museum in the city!
There were a series of mini drop-in drawing workshops with me throughout the museum during the weekend. :-D Digital artist Emma Goodman also ran workshops on the day too, so there was plenty to see and do!
*************************************************
THE BIG DRAW 2013: "The Museum of Curiosities!" with Artist Pui Lee; at Tullie House Museum & Art Gallery Trust, Carlisle. (October 2013)
The 2013 Big Draw ran from 1 October to 3 November across the UK and in fifteen other countries, with more than 200,000 people of all ages joining in 1000+ events. These events were for those who love to draw, as well as for those who thought they couldn't!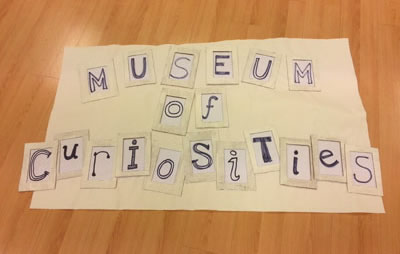 As part of the Big Draw! and Family Arts Festival 2013, artist Pui Lee worked with members of the public to transform the Community Room at Tullie House Museum & Art Gallery Trust, Carlisle, into a very unique "Museum of Curiosities". During a series of arty drop-in workshops, she invited the people of Carlisle (and beyond!) to use their imaginations to come up with ideas of weird and wonderful artefacts for this hand-drawn museum!
With the theme being: "Draw Tomorrow!" I wanted to create a site-specific project, which was both relevant and fun. Museums are often regarded as a place that celebrates the past, but my proposed, "Museum of Curiosities", will instead celebrate the future and offer a 'preview of life's coming attractions'. After all, Einstein did say that, "Imagination is more important than knowledge." The project explores ideas of artefact, museum collections, time, authenticity, audience, notions of value and the act of looking. Tullie House is a wonderful museum to explore and is a great place to visit for all ages. The resulting collection is intended to inspire wonder and inspiration, an eclectic fusion of what had once been and what could well be.
In the event, I hoped to inspire all members of the public to engage with the act of drawing so that they could work towards creating a collaborative hand-drawn installation piece, "The Museum of Curiosities"! It would be a memorable and enjoyable experience for all involved. My working ethos is to empower people through creativity. I hope to make a difference with what I do, whilst promoting the value of art in our overall wellbeing and enjoyment.
Upon entering the workshop, participants were directed to the "Ideas Station" where they could quite literally "draw out" some "instructions" and/or "themes" from the artist's "Random Idea Generators" in to help them create a drawing. These "instructions" included: "Draw an object using one line only.", "Draw an object with your eyes closed.", "Draw any object in the room and give it legs!" etc. Participants also created drawings of random objects and also those from the museum's collections (images and actual artefacts), and then combined them to create a weird and wonderful new object/artefact. Visitors were also encouraged to go around the museum to spot some "curious" looking items to create drawings from and were also given a special "drawing window" to use on their travels. Some participants brought in their own objects to draw and discuss too.
Throughout the two days, everyone's drawings were added onto the various "shelves" at the "Museum of Curiosities" for public display. A total of 233 drawings were created by the end of the weekend. Some were taken home but most were included in the final installation.
The final hand-drawn installation was then exhibited to the public for one week after the Big Draw! event. Its opening times were: during the afternoons of Monday 21st October 2013 – Friday 25th October 2013 and Sunday 27th October 2013; 1pm-4pm.
For those who could not attend the event, there were also a number of opportunities to get involved in the project:
1. Drawings in any media could be scanned in/photographed/created on Apps and emailed to the artist for inclusion on http://museumofcuriosities-bigdraw2013.tumblr.com/, which features all the individual drawings made as part of the Big Draw event.

2.The Museum of Curiosities also has its very own Virtual Collection of Curiosities for members of the public to submit a photograph of any object, which they found to be "weird", "wonderful" or "just plain curious". http://museumofcuriosities.tumblr.com/ This was one unique collection you definitely will not have seen before - and more importantly, you can see it anytime and anywhere! A total of 130 photo submissions of "objects" were actively submitted for inclusion in the virtual collections at The Museum of Curiosities.
3. "The Curator's Choice: Highlights from the Virtual Collections" is viewable at www.facebook.com/museumofcuriosities where people could comment, LIKE and share their thoughts about the objects they see. Basically, the idea behind this is to stimulate some kind of dialogue about unique and interesting objects that hold some personal meaning to at least someone out there! The Facebook page has attracted a lot of attention with some images having already being viewed by well over 540 people since it was first set up on the 18th October 2013.
Using technology creatively was a key part to this project. If this is a project about drawing tomorrow, then it was important to also embrace the advantages of new technologies in order to expand our ways of communication and accessibility issues. The online virtual gallery definitely helped to widen the possibilities for people to engage in the project.
The project was widely publicised and even got featured in a double page spread article in the News and Star newspaper! See link ---> (coming soon)
Other participant comments from the event included:
"That was really quite therapeutic for me!"
"It's so easy to get lost in your drawing. I haven't done any since school and I was told back then that I wasn't any good; but I really enjoyed that so thank you for inviting me in."
*************************************************
THE BIG DRAW 2011: Fantasy Faerie World! with Artist Pui Lee; at Sunderland Museum & Winter Gardens, Sunderland. (28/10/2011)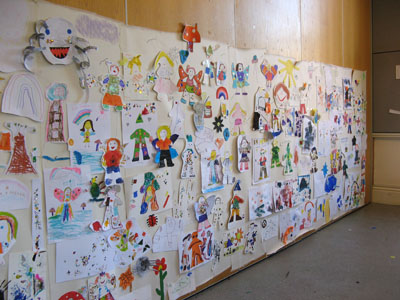 The magical appeal of faeries and the realm of the fantasy knows no age boundaries. The notion of these mysterious creatures enchants both the young and the old. I aimed to recreate the magic and wonder that surrounds them, and to encourage imagination through drawing, offering the maximum accessibility across all generations. Inspired by The Truth about Faeries exhibition, museum visitors were invited to help the artist create a big fantasy Faerie World picture to celebrate The Big Draw! this year. The Big Draw! takes place annually in October and is an initiative, which is designed to get the whole nation to engage with the act of drawing.
Participants were given the opportunity to draw their own imaginary Faeries and Elves using a range of drawing materials. They then added their own unique scenery features to the Faerie World landscape, such as weird and wonderful foliage or shiny Faerie Skyscapers from the future! -The possibilities were endless!
Informed by Pui Lee's practice (working with scale and process) and her interests in public interaction, the drawing event took the form of a game and the participants took inspiration from "The Ideas Generators" to evolve the overall drawing as the day progressed. This was particularly effective because it added an element of controlled unpredictability to it and it also encouraged creative problem-solving skills. "Instructions" from "The Faerie/Elf Generator", "The Faerie World Landscape Generator" and "Pot Luck - The Random Idea Generator" were designed to stimulate imagination and to help generate ideas in a fun and accessible way. These consisted of a mixture of thematic ideas and technical suggestions.

The big drawing was continuously added to and its contents evolved throughout the day, expanding when necessary. Alongside the growing Faerie Fantasy World big picture, there was also a separate board (The "Story-Board") to pin up short stories about what is happening in the picture, which created potential for creating imaginative narratives too. By the end of the session, there was a very big colourful collaborative artwork to be proud of. Feedback from all the participants was extremely positive and everyone thoroughly enjoyed themselves..
THE BIG DRAW! 2007 - The "I am..." Project with Artist Pui Lee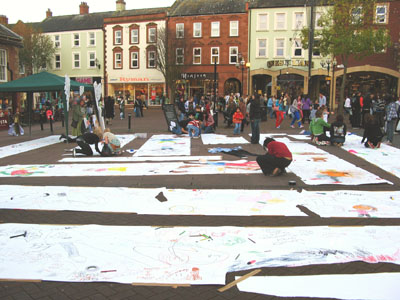 "I am..." formed part of a drawing project, entitled, "Demographics", which was conceived in conjunction with The Big Draw nation-wide event, as part of West Walls Studios. The project was fundamentally about making art more accessible to the general public, offering a platform for wider engagement and active participation. In this case, the project explored themes of identity and helped to celebrate cultural diversity and individual differences.
The project involved drawing your own life-size self-portrait to add to a giant paper chain for inclusion in a later exhibition, which eventually took place at West Walls Open Studios event months later. Ideally, As part of this project, I organised for the project to take place at local schools and venues in Carlisle, so that we could reach a wide range of audiences. I also co-ordinated the "I am..." public drawing event in Carlisle City Centre, which saw the local residents, young and old, take part in this drawing frenzy.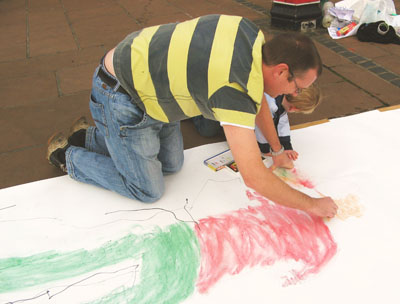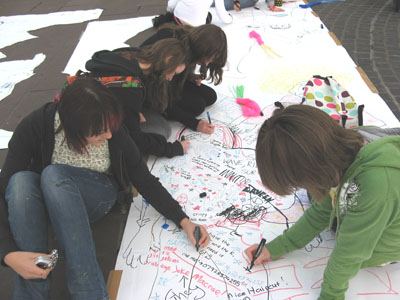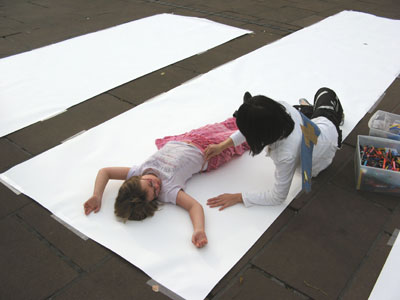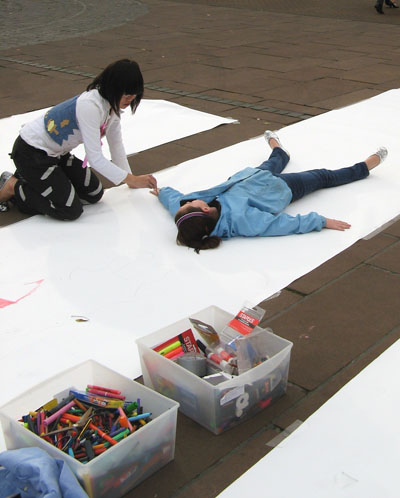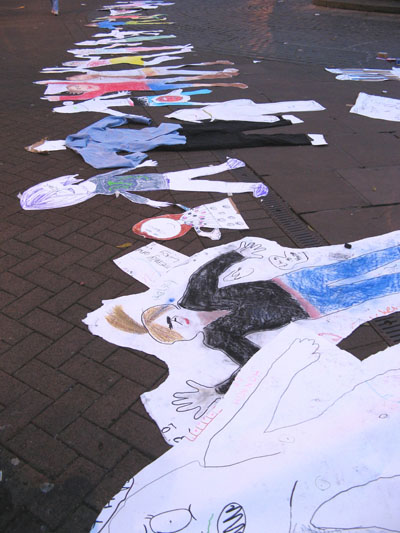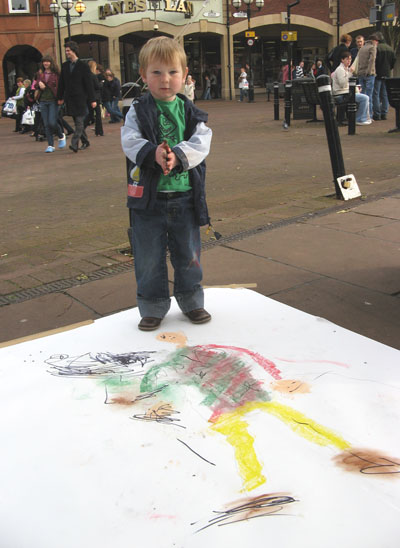 West Walls Studios are well known for their role in community arts and have been winners of The Big Draw Drawing Inspiration Awards in 2003, 2004, 2005 and were runners up in 2007 and 2008. I also played an active role in their projects: "Draw Your Own Dinner", "Spiritual Currency" and "Haven". These exciting and innovative drawing projects have allowed individuals of all ages to express a vision, an idea or an opinion through the medium of drawing.
********************************************************************************
To book me for a Big Draw! workshop/event or simply to find out more, please contact me direct on:
07970 785 030 / pui_lee@hotmail.com