Museums & Galleries <<< :
THE PEOPLE'S HISTORY MUSEUM, MANCHESTER.
I have been commissioned to design, plan and deliver the following family-friendly art workshops with great success to date:
"The Creative Currency Casino - Everyone's A Winner!"
– A Participatory Installation by artist Pui Lee

After a successful portfolio interview, I was hired to devise and deliver a series of 5 pARTicipate family-friendly workshops over the summer to coincide with the "Show Me the Money!" changing exhibition at The People's History Museum. I was already quite familiar with the contents of the show having previously researched it for another art project at NGCA, Sunderland, and was very excited about the prospect of working for a new organisation!

Local families were invited to engage with ideas of money in the exhibition, Show Me the Money: The Image of Finance (1700 to Present Day) and took part in a series of artist-led workshops with Pui Lee, learning new creative techniques along the way including: drawing, collage, paper-folding, 3D and printmaking. The workshop programme concluded with a final banknote drawing workshop, where participants then tried their luck at the artist's Creative Currency Casino to win some fabulous prizes!
The sessions were for children aged 5yrs+ to adults and took place on the following dates from 1pm-3pm:
Wed. 29th July 2015:            Personalised Piggy Banks Fit for a King or Queen!
Wed. 5th August 2015:         Recycled Sculptures Worth Every Penny!    
Wed. 12th August 2015:       Crafty Credit Card & Origami Card Holder!   
Wed. 19th August 2015:       The Great Exchange - Banknote of I  

Wed. 26th August 2015:       The Creative Currency Casino!
The work created during the workshops were either taken home by the participants or put on display at the museum for all to see.
Museum visitors also got the opportunity to contribute to my All the Money in the World installation, a mass display of till receipts, which explores ideas of wealth and aspiration. The response to the installation has been so good that the artwork is staying up in the Learning Area as part of the exhibition until the end of 2015! I invite all of you to consider the question, "If I had all the money in the world, what would I do with it?" Write your responses on a piece of till receipt as provided and attach it to the wall!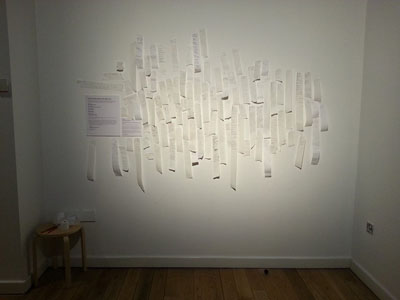 Pui Lee says, "Money is a huge part of our everyday lives and yet it is often regarded as being a bit of a forbidden subject. We are often reluctant to talk about it and although it is often perceived as being a grown-ups' subject, I think it is worth engaging children and young people with it too. This is a unique project, which explores the theme of money in terms of how we use it, the exchanges that we make and its perceived value.I hope to encourage parent and child collaboration as well as a greater understanding of art conversations across all ages and abilities."
.Check out and follow the accompanying blog as the project progresses: https://phmmcr.wordpress.com/2015/08/04/pui-lees-creative-currency-casino/ :-)
In the October half-term, I was invited back to deliver another family-friendly pARTicipate drop-in art workshop on Wed. 28th October 2015, 1pm-3pm, inspired by the same exhibition. The session was called Break the Vault! and involved the participants creating their very own 3D cardboard sculpture of a bank safe/vault to take home with them. The children learned about what a safe/vault was and they were then asked to think about what valuable things they would want to keep safe. This could be actual objects, abstract ideas or even people/animals. They then made a representation of this "thing" either as a drawing or as another sculpture, which was then suspended inside the safe/vault for storage. The outcomes included a love heart, a treasured Man United football, a favourite teddy bear... to a special family photograph!