Connecting Light project (2012):
In summer 2012, I was invited to get involved in the Cultural Olympiad and Hadrians Wall Heritage funded art project, "Connecting Light" by New York arts collective YesYesNo. I was later commissioned to organise, design and deliver a series of art workshops for groups in the Tyne & Wear and Northumberland region.
The sessions explored the following themes and ideas: Home, Connections, Locality, Boundaries & Place. All the workshops contained a feedback consultation element to it, where the participants got the opportunity to discuss and exchange ideas about the idea of "home" and what connects us as people. These responses were recorded and documented and submitted to YesYesNo to form material for their big light installation along Hadrian's Wall. Their responses also provided a starting point for the creative activities that followed.
***************************************************
24/07/2012: Designed and delivered 3hr Installation + Painting Art Workshop (inc. Project Feedback) with elderly group from Cestria House, Newcastle (Heatherfield Care Group).
"The group engaged well with the Q&A part of the workshop and most members liked having the opportunity to voice their thoughts and opinions, which perhaps they don't usually get to do." - Pui Lee (artist)
"Thank you very much, all the residents who attended all thoroughly enjoyed it. The residents said it was relaxing, enjoyable and fun. Thank you again!" - Kathy Burns (Cestria Care Home)
Works created included:
~ "Life Boat"(2012): origami boats installation; wallpaper, copier paper; dimensions variable
Each participant learned how to make their own origami boat (or two!). These were then collected in and formed an intimate installation, which became a metaphor for our own individual journeys through unchartered territory (which could again be metaphorical for life itself). The piece also refers to ideas of transition and the idea of being fixed yet changing. Ultimately, the boats represent the many journeys we go through in life and the fragility of our experiences and life itself.
~ "Untitled (2012)": acrylic on canvas, 50cm x 60cm. 4 canvases in total.
***************************************************
23/07/2012: Designed and delivered 2hr Installation Art Workshop (inc. Project Feedback) with 11 participants from Gateshead Carers Association, Tyne & Wear.
See also the following video links featuring the feedback consultation parts:
Works created included:
~ "Destinations – Explored and to be Explored: Gateshead Carers" (2012): world map (102cm x 138cm), stickers
~ "Must Go To! (2012)": handwritten post-it note installation on wall, dimensions variable
~ "Where We Are (2012)": hand-drawn paper brick installation. dimensions variable
Feedback from members of Gateshead Carers:
"Interesting concepts!" – Alan.
"Enjoyed the challenge!" – Robert.
"I found the workshop to be enjoyable and it made me think outside of my usual thought processes." – Anne.
"Quite an enjoyable lesson! It was a change from normal routine." – Yvonne.
"I found it challenging and fun." – Sandra.
"I thoroughly enjoyed the communication between the group." – Ava.
***************************************************
18/07/2012: Designed and delivered 3hr Project Feedback and 3D Sculpture Art Workshop (inc. Project Feedback) with 13 ladies (over 60s) from Newbrough Womens Institute, Hexham.
Work created: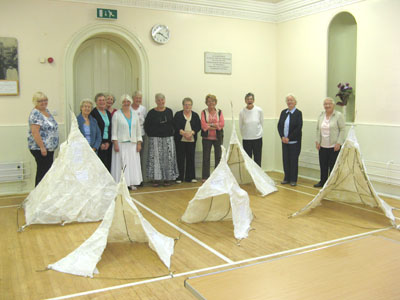 Title: "Home: Where the door is always open" (2012)
Media: willow, tissue paper, cling film, pencil drawings on pencil
Dimensions: variable

Thrown into the deep end (-and well out of their everyday comfort zones!), thirteen ladies who make up the Women's Institute in Newbrough created these five wig-wam structures one evening as an exploration of home, boundaries and connections. The basic contrast between house and home is evident in the collaborative piece with the inclusion of hand-drawn images and text excerpts, which feature private reflections, moments of nostalgia and postcards of cherished memories.
Using 3D media, drawing and discussion, the WI ladies offered their interpretations of what home means to them, exploring both the physical structures we live in and also the sentimental associations that nourish us. Home is a universal concept to us all and is an important part of our self-identity. It makes a home a "home", more than just a set of walls.
The WI group consists of: Laura Watson; Clare Dawson; Susan Sutton; Beryl Dixon; Ella White; (beautiful) Dorothy Sowerby; Violet Kennedy; Janet Bowen; Doreen Dodd; Beryl Nattrass; Pam Johnston; Jean Reed; Rose Daving.
"We thoroughly enjoyed our time with you last Wednesday. You were very pleasant and I must say very patient with a lot of old age pensioners. We certainly have never tackled any 3D art projects before and it was probably out of our normal comfort zone, but we gave it a try. It was also good to get the old grey matter working when you asked us questions regarding our thoughts on home. Our WI has been very happy to be part of Hadrians Wall Connecting Light festival and we look forward to it all happening at the end of August. Many thanks!" – Dorothy Sowerby (Secretary of Newbrough W.I.)
See also the following video links featuring the feedback consultation parts:
***************************************************
To go back to "Other Examples of Community Workshops with Artist Pui Lee". Click here.